Good Morning Beaver Fans! The 2021-2022 Student-Parent Handbooks are available in the main office at the school. Stop by and pick one up if you plan to participate in extracurricular activities in the upcoming school year. Also a good time to get your sports physical completed for the upcoming school year. Make sure you use the current form which is included in the Student-Parent Handbook.

We have openings for a concessions manager and 2 assistant football coaches. Please see the website for application information or call Mr. English at 683-2361.

BEAVERHEAD COUNTY HIGH SCHOOL - JOB POSTING Beaverhead County High School is looking for a positive, pro-active, and team oriented High School maintenance custodial position. Position: BW Lodge Maintenance position for 2021-2022 school year Salary: $11.00 - $16.00/hour DOE, plus benefits Qualifications: 1. High School graduate or equivalent 2. Pass Pre-employment physical 3. Must be willing to obtain a state low pressure boiler operator's license. 4. Able to lift 30 lbs. 5. Pass a Criminal Background check This is a twelve month position. Hours scheduled from 2:00 – 11:00, but may change during the year. Possibility of additional hours, overtime, and some weekends are included in the position. During the summer months maintenance/custodial employees work ten hour days, four days a week and/or eight hours a day five days a week. The successful candidate qualifies for Health Insurance, Public Employees Retirement Pension, and sick and vacation leave. Closing: Until filled Requirements: Letter of Interest, District application, resume, transcripts and three current letters of recommendation District application and job description can be picked up at the High School District Clerks office at 104 North Pacific or on our website at
www.bchsmt.com
Apply to: Mr. Gary Haverfield, Superintendent 104 North Pacific Dillon, MT 59725

Good Morning All, The weight room is open this summer Mon-Fri in 1 hour blocks. Coaches will put signs on the door a few days ahead of time if it won't be open for some reason. Coach McRae is in charge and can answer other questions you have. 6:30-7:30 9:00-10:00 10:00-11:00 11:00-12:00 (Coach Konen is supervising this one for girls.) 5:30-6:30 John English Assistant Principal / Activities Director Beaverhead County High School Office (406) 683-2361 Cell (406) 794-1221
jenglish@bchsmt.com

Hi Parents and Students, Please review the 2021-2022 1st semester schedule. This might help if your student wants to change his/her schedule for next year. Schedules were passed out to students today during 6th period finals.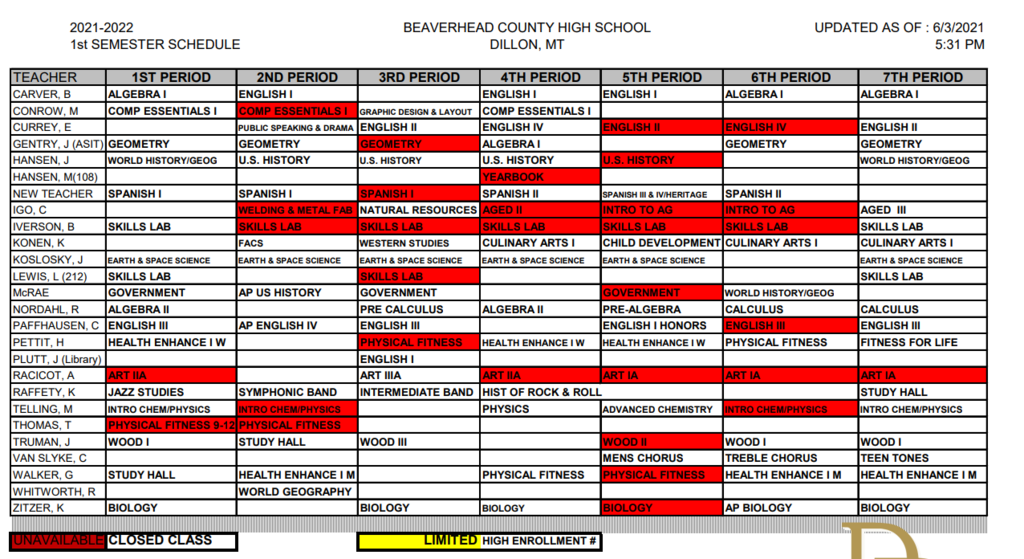 Good Morning Everyone, The phones are still out at the high school. If you have an emergency you can reach the school on Mr. English's cell phone at 406 794-1221.

All, The phones are out at the high school for now. We will notify you when they are back up and running.

Dillon Beaver Fans! We have three individual state champions to recognize from Saturday's State Track Finals. Treyton Anderson, Callahan Hoffman, and Ainsley Shipman were individual event State Champions and will get rides from the Dillon Fire Department on Thursday June 3rd. The engines will start at 11:30AM and will follow the usual route with a pass through downtown and by the elementary district before returning to the high school. Please join us in celebrating their excellent achievements.


Families of Seniors, May 26 9:00 Buses load in front of main building and depart for Elkhorn Hot springs. Bring swimsuit / Towel / Warm Jacket / Camp chair. (Seniors going to state for Tennis do not need to come to school that morning.) Seniors do not need to come for 1st period that day May 27 8:15 Graduation practice at the BW Lodge About 9:30 Senior Checkout May 28 No school for seniors May 29 7:00 PM Baccalaureate in Auditorium May 30 Graduation Day 11:45 Honor Society Workers Valedictorians, Salutatorian to BW Lodge 12:30 Seniors at BW Lodge 1:00 Group Photo in the bleachers at BW Lodge 1:15 Band and Choir kids arrive 1:40 Lineup for ceremony 2:00 Ceremony begins


Softball Fans, Tonight's game against Corvallis has been canceled due to the muddy conditions at the field. Hope to see you in Hamilton at 1:00 on Saturday!!

BCHS SENIOR AWARDS NIGHT MAY 24TH AT 7 PM IN THE BCHS AUDITORIUM. Parents should be receiving invitations to the Senior Awards night,check you mail! Students were handed invitations on Monday May 17th. Please contact Ms Perisho with any questions.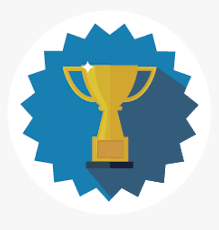 All, The Choir Concert is Wednesday the 19th at 7:30 in the Auditorium. The Band Concert is Tuesday the 25th in the BW Lodge.


Softball Fans, not good news tonight. We are still too shorthanded to play this weekend. We have dropped out of the tournament in Butte this weekend. We are hoping to recover and play in the games next week. Thanks for your support. Go Beavs!

Safeway pharmacy in Dillon has been given the go ahead to provide COVID-19 immunizations for teens. Safeway will begin giving shots to teens on Friday, May 14. Here is the information that parents need to know, if they want to get their teen a COVID-19 immunization: Please see the ROBO call transcript for May 13th or the Teen COVID Immunization link on our Home page

Softball Fans, The game on Thursday, May 13th in Butte has been canceled. Between injuries and illness we unable to field a team that day.