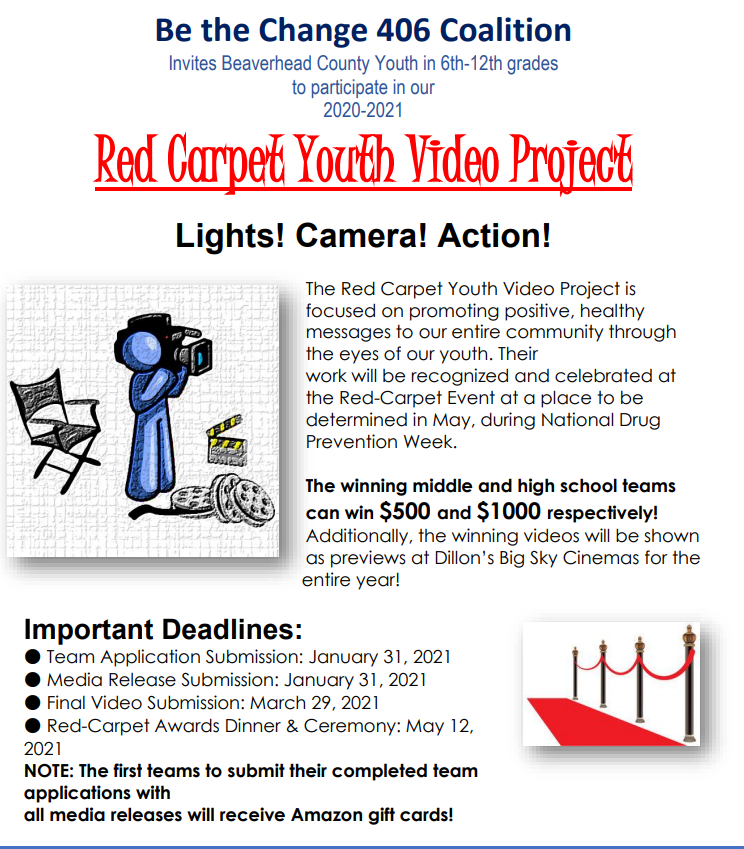 Red Carpet Youth Video Project Application

See these suggested pages for links to lots of excellent information relating to financial aid, college, and careers!
http://mus.edu/gearup/resources.asp (A variety of helpful resources and links)
http://www.mus.edu/ (Montana University System webpage)
http://www.onetonline.org/ (A comprehensive career resource)
Welcome to the BCHS Counseling Webpage. Use the links at the left to find information on ACT/SAT testing, scholarships, requesting transcripts, career, college information and more. The calendar below shows upcoming dates and events such as college visits, military recruiter visits, local test dates, and scholarship deadlines.
Hi I'm Carol Perisho, your new school counselor. I am originally from Missouri. I graduated from the University of Missouri in Columbia ( GO TIGERS!!!) with an Animal Science degree. I took some time off to raise my two boys on a family farm near the small town of Conway, Missouri. ! My two boys have graduated college. My oldest, Josiah, from the University of Missouri Science and Technology and my youngest, Nathan, from the Naval Academy. Josiah lives in Oklahoma City as a computer engineer. Nathan is a Nuclear engineer officer on the USS Missouri Submarine, stationed in Honolulu Hawaii. I went back to school to get my Masters in Counseling at Missouri State University. I was a K-12 counselor before moving to Helena Montana to work at Capital High School in 2011. I moved to Shelby in 2016 and was the 7-12 counselor for two years. Shelby High School is a wonderful school and I really enjoyed being there. I made a trip to Dillon for the College Rodeo Banquet and I was so impressed with Dillon that I jumped at the chance to work in this amazing town with this great school. I am looking forward to meeting all the students and getting to know Beaverhead County High School.
The BCHS Counseling Department seeks to serve students academically, personally/emotionally, and socially, as well as prepare them for college or career. My door is always open for students and parents. Please feel free to call or email me with your concerns or questions..