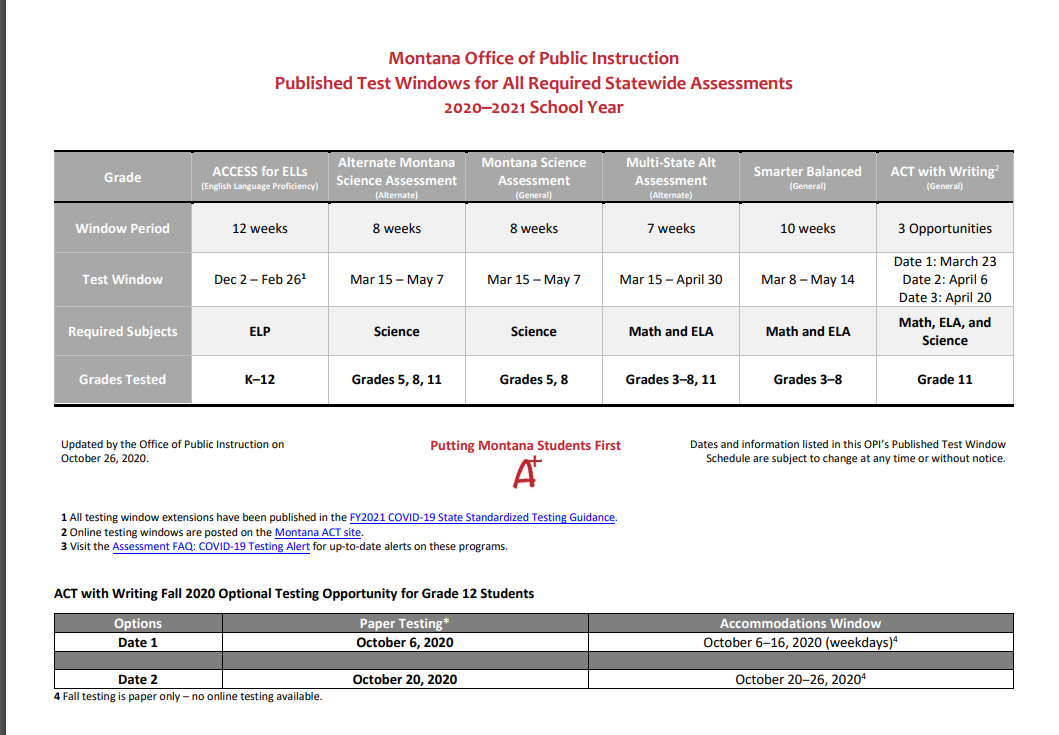 On Tuesday,March 23 , BCHS JUNIORS will have the opportunity to take the ACT with Writing from 8:20am to 12:30 (approximately). This is a mandatory test for all Montana Juniors. More information will be distributed in the January and February. All Juniors were given the "Taking The ACT" workbook and directed to the ACT Academy for testing practices .We will maintain our masks, social distancing, disinfecting and tracing practices during this test. These practices are also required by ACT and College Board.
We hope you will encourage your student to get plenty of sleep the night before, eat a healthy breakfast and come to school with a positive attitude on testing day.
Calculators and pencils are available to all students. CELL PHONES ARE STRICTLY PROHIBITED DURING THE ACT TEST. CELL PHONES WILL BE TURNED OFF AND COLLECTED DURING THE DURATION OF THE TEST. If you have an emergency, please contact the High School Office at 683-2361 and Ms Ferris will relay any emergency information to your child.
If your student has been permitted approved accommodations because they have an IEP, they will be testing on a different day (TBD). I will communicate with your student the day and times they will be completing the ACT.
The ACT is the qualifying exam for most colleges and universities. This test will provide students with a baseline for increasing their future scores. An official ACT Student Score Report will be mailed directly to your home as soon as scores are available. Students can use these reports for college admissions and scholarships. Here is a brief overview of the ACT.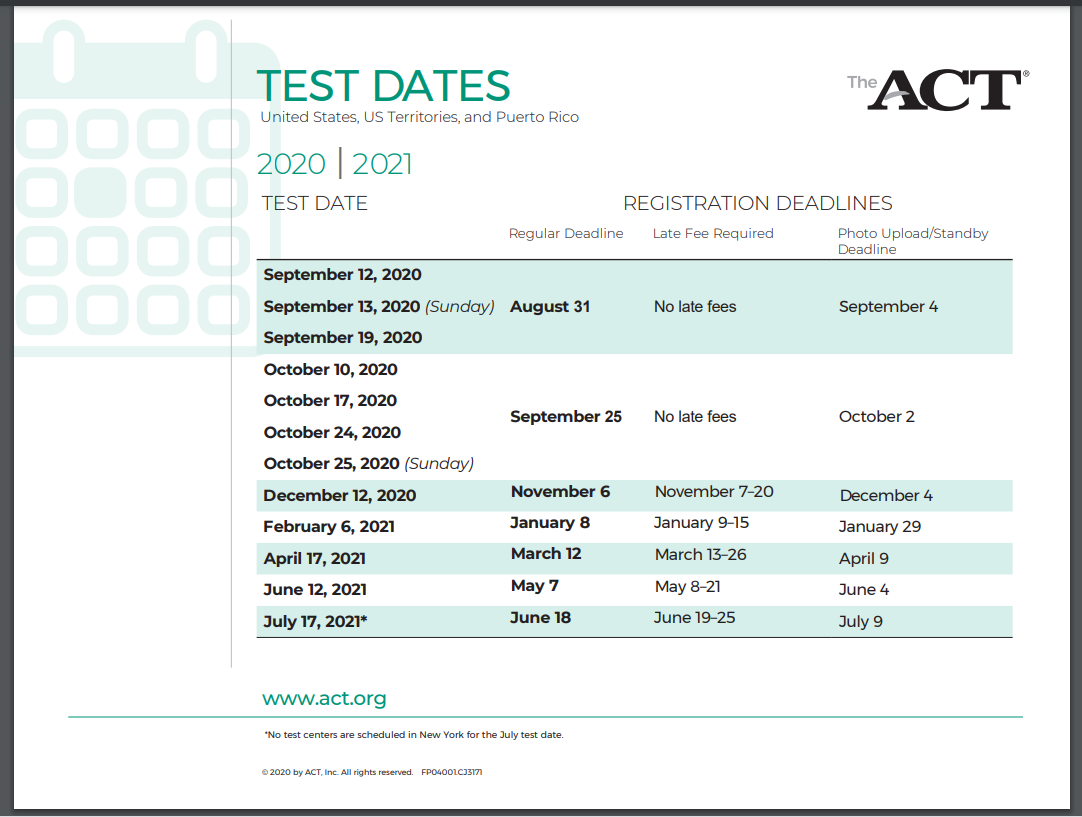 ACT ACADEMY: BECAUSE PRACTICE MAKES POSSIBLE
Absolutely free, personalized practice for the ACT
ACT Academy™ is a free online learning tool and test practice program designed to help you get the best score possible on the ACT test, and well on your way to college and career success. Learn more about ACT Academy.
Start Practicing with ACT Academy
All students considering college should take either the ACT or SAT. Colleges need at least one test score for admissions purposes; the scores are also used for some scholarships. Montana has a strong focus on the ACT, which all students take free of charge in their Junior year. It is recommended that students take the test again on their own in the fall of their senior year. Students may take the SAT on their own as well, but only one of the tests is needed for college admissions purposes. An explanation of the differences between the ACT and the SAT may be found at the bottom of this page.
Also, go to http://www.kaptest.com/college-prep/getting-into-college/free-practice-test to take both an SAT and an ACT practice test, plus receive feedback on your scores. For more in depth SAT preparation, visit. http://www.khanacademy.org/sat for the Official SAT practice site. For official ACT practice resources and tips, visit http://www.act.org/content/act/en/products-and-services/the-act/test-preparation.html. There are also some great tips and advice in this booklet here - Test Prep ebook.
We strongly suggest that students take the Writing portion of the tests as many colleges require those scores.
ACT® VS SAT®: WHICH TEST SHOULD YOU TAKE?
SIDE-BY-SIDE COMPARISON OF FORMAT, SCORING, AND CONTENT
Both the ACT and the SAT are nationally administered standardized tests that help colleges evaluate candidates. All schools accept either test interchangeably. So as you begin to think about college and creating the best application package possible, your admissions plan should begin with the question, "Which test should I take?" Here's how to compare them.
COMPARE THE TESTS SO YOU CAN DECIDE WHICH YOU SHOULD TAKE
| | | |
| --- | --- | --- |
| Test Structure and Format | | |
| | 3 hours, 35 min (with optional Writing Test) | 4 sections (English, Math, Reading, Science) plus an Optional Essay (or Writing Test) |
| | 3 hours, 50 minutes (with optional Essay) | 4 sections (Evidence-Based Reading, Writing, Math without a calculator, Math with a calculator) plus an Optional Essay |
Composite of 1-36 based on average scores from the 4 test sections 4 scores of 1-36 for each test. Optional Writing Test score of 1-36 (not included in the overall)

No penalty for wrong answers

You decide which score is sent

Score is out of 1600: 800 for Math, 800 for Evidence-Based Reading and Writing Optional, Essay receives a separate score,
Subscores and insight scores available

No penalty for wrong answers
Arithmetic, Algebra, Geometry, Algebra II, Trigonometry

Analysis, Interpretation, Evaluation, Basic Content, Problem, Solving

The Essay: Writing Test

English Test: Writing & Language multiple-choice questions

Optional final section,
40 minutes,
Not included in composite score, Topic presents conversations around contemporary issues

Reading Comprehension, Words in Context, Evidence Based

Algebra, Data Analysis, Geometry, Trigonometry, Algebra II

Science Insight Score

Provided

Tests grammatical and rhetorical skills

Optional final section, 50 minutes, Separate score, Tests Reading, Analysis, and Writing Skills, Topic comes from a 750-word passage to be read on Test Day
SAT VS. ACT: UNDERSTANDING THE DIFFERENCES
There is no significant content difference between the ACT and the SAT, though the ACT's math section is slightly more rigorous in testing complex math comprehension. If you are a student who does well in math, you might want to consider the ACT.
If you are a student who needs more time when taking an exam, then you might consider the SAT, since it clocks in at 3 hours and 50 minutes, while the ACT is allotted 3 hours and 35 minutes for testing.
The best way to determine which test best fits your test-taking style, test the tests themselves! See which exam fits you, take a practice test.
Or, take the quick diagnostic test to the right and see which exam is right for you.
In addition to comparing test structure and content, it's also important to think about your college admissions timeline when making your exam decision.
Last Modified on March 30, 2017